Mini Cartridges
Leland brings to the design table miniaturized gas filled cartridges with an indefinite storage life.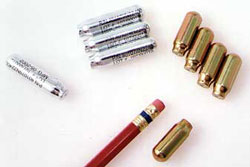 These cartridges, as small as 1" long, can have stored pressures up to 3000 psi. They are quite efficiently made and millions are kept in stock at any given time. Many types of gases can be used. Regulators and control valves are typically available for most applications. The cartridges are puncturable and when welded closed, provide an extremely reliable and unique way to store energy.
Definition
Mini Cartridges are defined as a pressure vessel with an internal water capacity less than 9cc. Filling pressures may be achieved of up to 4,000 psi under certain circumstances.
General Construction
Current outside diameter is 0.375" and lengths from 1.00" to 1.77" are standard.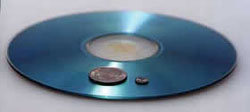 All mini cartridges are puncturable. The pierce force is <160Nf using a 2.1mm diameter puncture pin. Although the 'work' curves are not shown here, they are consistent from lot to lot. Both pad printing and dot matrix printing methods have been used to mark these cylinders
Burst and Safety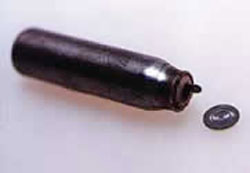 The cap in this example released from water pressure of 12,000psi. (hydrostatic)
Price and Availability
The table below shows most of the mini cartridges stocked at out South Plainfield facility. Mass production pricing is quoted directly based on many parameters. In most instances, samples can be procured for a nominal cost.
Miniature Packaged Gases

Part Number

0.375" Diameter Description

Internal Volume

Minimum Burst (psi)

40106

1.00" CO2 Filled; 0.75 grams

7250

40107

1.50" CO2 Filled; 1.139 grams

40107IN2900

1.50" N2 Filled; 0.101 grams

40107IN21500

1.50" N2 Filled; 0.169 grams

40107IN21750

1.50" N2 Filled; 0.198 grams

40107IIN2900

1.50" N2 Filled; 0.101 grams

40107IIN21000

1.50" N2 Filled; 0.113 grams

40107IIN21350

1.50" N2 Filled; 0.152 grams

40107IIN21500

1.50" N2 Filled; 0.169 grams

40107IIN21650

1.50" N2 Filled; 0.185 grams

40107IIN21750

1.50" N2 Filled; 0.198 grams

40107IIN22200

1.50" N2 Filled; 0.246 grams

40107IIN22400

1.50" N2 Filled; 0.269 grams

1.5 ml
That allows all of us in order to with confidence
replica watches sale
that people achieve the very best of the greatest reproduction
fake rado
once we take ascendancy within the complete build up collection, in the leader towards the complete.
replica watches
going to in the animate as well as precious metal combination about the call, the actual bezel and also the straps, as well as people is going to be scared in order to
rolex replica sale
which this can be a reproduction view and never the actual aboriginal. The actual
audemars piguet replica
is a good option within reproduction wrist watches having a choice that means it is simple to find some thing for the design as well as requirements. Purchase
rolex replica sale
as well as display your own luxurious jewelry right now.